Company Background
Avast is a publicly traded company that was founded in 1988 in Prague, Czech Republic. Its founders are Eduard Ku?era and Pavel Baudiš. Subsidiaries of the company are AVG technologies and HideMyAss! The company currently has approximately 1700 employees.
Awards & Prizes
In terms of their Windows security software, Avast continues to receive awards and recognition. These awards include a PCMag Editor's Choice award for Best Free Anti-Malware and an Advanced+ award from AV-Comparatives in their Real-World Protection test category. They have also gained recognition from CNET for being their #1 Download.

Security Features
As mentioned above, Avast provides a feature-rich antivirus program. And whether you need protection for a PC, a Mac, Android, Apple product, or even your Internet of Things devices, Avast has a security package for you. The free package is very basic, providing you with superior malware protection, security against weaknesses in your Wi-Fi network, and a password vault to secure your passwords.
There is no question that the software is impressive, given the findings in multiple third-party tests. Avast consistently places in the top, beating out its competitors. For example, testing done by the AV-Test Institute gives results in 4 separate categories, with the highest possible overall score of 18. Avast scored a 17.5. Results this high, or even higher are the norm for Avast antivirus.
In terms of malware and phishing protection, you can be sure Avast has your back. Since phishing websites are plentiful and extremely easy to create and launch, it's imperative that all devices today have some sort of protection for the unwary. Again, Avast earns top scores when it comes to protecting you from phishing attacks. In one recent independent test done, Avast scored an outstanding 98 percent in blocking an array of test samples thrown at it.
Additional Features
Unlike some of its competitors, Avast does not offer Parental Control. However, since not everyone is a parent, this may not be a deal breaker. If you keep your WebCam running or if you often have sensitive documents on your device that you no longer have a need for, you might be interested in some of the features offered in the higher range packages. These include a new feature that will stop WebCam spying and a feature that will permanently shred any sensitive files or documents that you have on your system, but no longer use. The top-tier package, Ultimate, also includes a VPN and a full-featured password manager. This password manager goes above and beyond the password manager offered in the other packages.
Ease of Use & Performance
Install is quick and easy, and users are provided with an upfront explanation of how Avast handles your nonpersonal data and gives you the option of excluding yourself from sharing this data if you wish. The main window or dashboard is well laid out and easy to navigate.
In terms of performance, and the software's impact on your own system while running, for the most part, Avast scores excellent marks in tests done by AV-Comparatives. According to these tests, in most cases, there is no significant impact on your system at all. However, there are some slight performance issues when it comes to installing or uninstalling applications, as well as some performance lag when the antivirus is first installed and goes through its initial run. Again, with the exception of these two things, Avast has no impact on your system performance.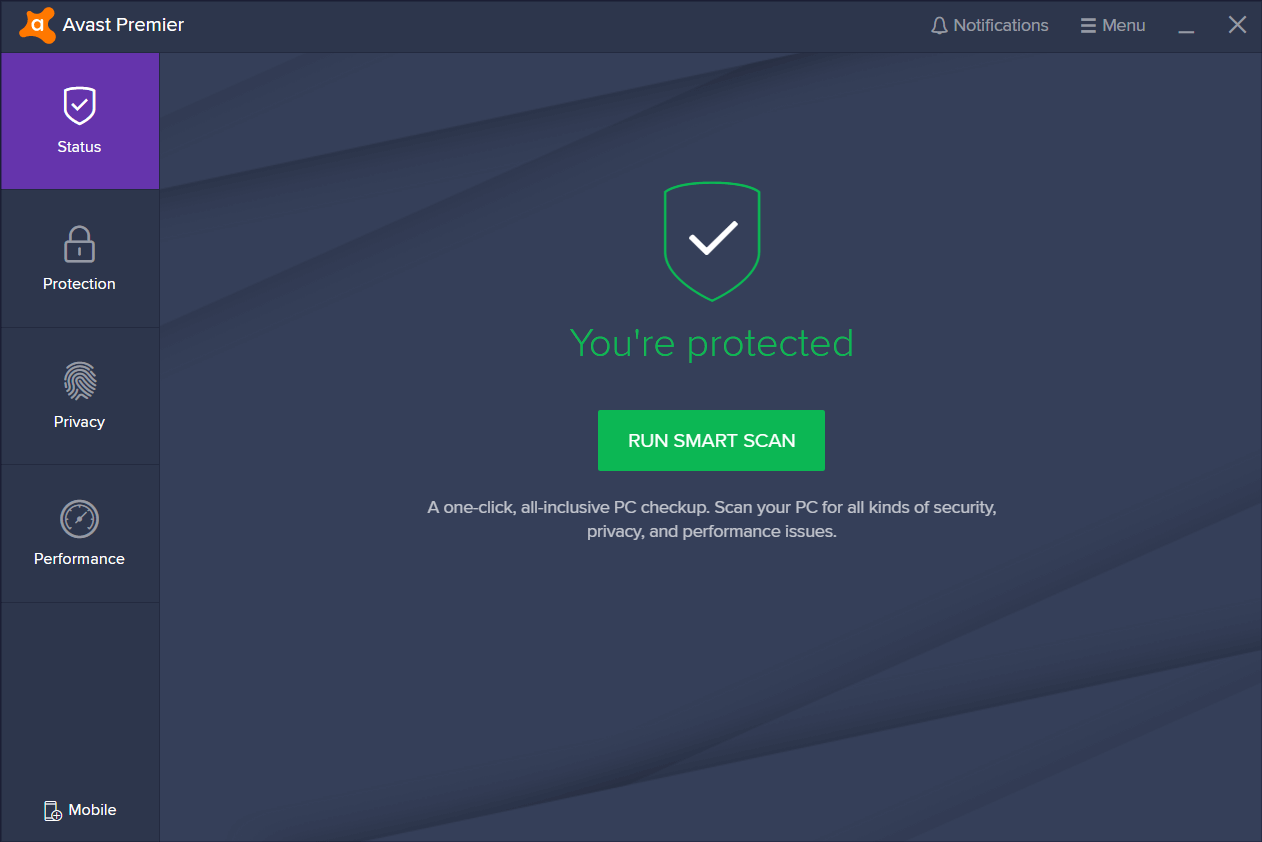 Customer Support
Avast offers a huge repository of knowledge base articles and FAQs. They also have a forum. They do have what looks to be paid telephone support, and you can submit an email request asking them to contact you. However, you have to jump through hoops and fill out a full form just to get some help. Not terribly user-friendly in my opinion.
Bottom Line
Despite a few gripes mentioned above, Avast offers a solid program. You can rest assured you're protected from malware, phishing—assuming you're using a paid version—and so much more. They continue to outperform many other providers and manage to do it at a fairly reasonable price.
Ultimately, I say go for it!
| | | | | |
| --- | --- | --- | --- | --- |
| | Free Antivirus | Premium Security, Single-Device | Premium Security, Multi-Device | Ultimate |
| Block viruses and other malware | | | | |
| Scan for Wi-Fi security weaknesses | | | | |
| Secure your passwords | | | | |
| Avoid fake sites for safer shopping | | | | |
| Safely run suspicious apps | | | | |
| Lock out hackers with an advanced firewall | | | | |
| Block annoying spam and phishing emails* | | | | |
| Get an extra layer of ransomware security | | | | |
| Stop webcam spying | | | | |
| Permanently shred sensitive files | | | | |
| Automatically update apps | | | | |
| Install on all your devices: Advanced protection for up to 10 devices (PC, Mac, Android, and iOS) | | | | |
| Includes Avast Cleanup Premium | | | | |
| Includes Avast SecureLine VPN | | | | |
| Includes Avast Passwords Premium | | | | |