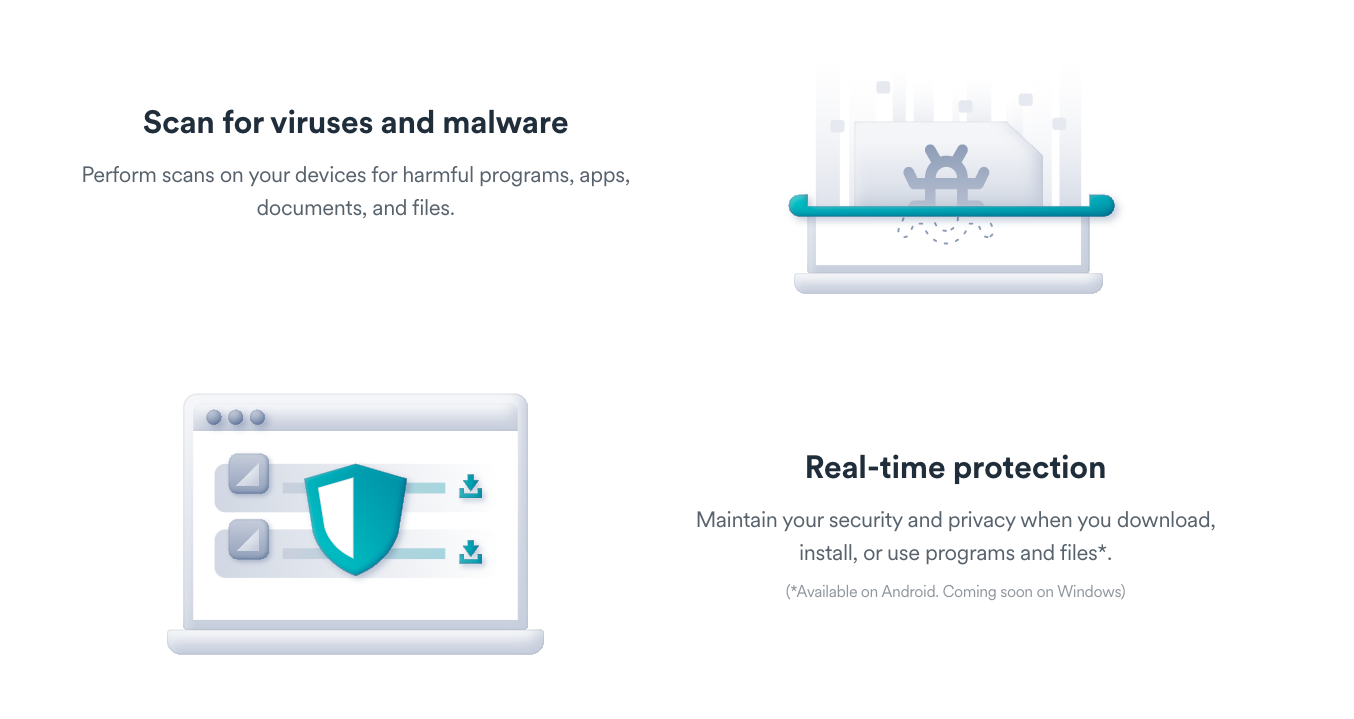 Company Background
Headquartered in Tortola, British Virgin Islands, Surfshark Antivirus comes from the same company behind NordVPN, AtlasVPN, NordLayer, and Surshark VPN.
Security Features
As we have mentioned earlier, Surfshark One is made up of four solutions: VPN, Antivirus, Search, and Alert. While the VPN component takes care of your data and privacy, the antivirus product is in charge of protecting your Android and Windows devices against viruses, trojans, spyware, ransomware, and other intrusive apps. It does this in real-time, which means you won't have to wait for your scheduled scan to kick in or do manual scans. As soon as malware hits your system, Surfshak antivirus will detect and take action to secure your device, thanks to its advanced AI and Machine Language integration.
Of course, you can also schedule scans, and you can do this in two ways. You can do a full scan of all the files in your drive or a quick scan of your documents, downloads, and desktop folders. If the scan detects any threats, you will be asked to resolve or ignore the threat.
Additional Features
Surfshark One also includes VPN, which requires no further introduction. Since its release in 2018, it has been one of our staff pick for keeping our activities online safe and anonymous. What we particularly like about this VPN is its strict no-logs policy, split tunnelling support, VPN chaining, as well as URL and adblocking. It's fast, reliable, and secure and allows unlimited simultaneous device connections with a single subscription.
On the other hand, Search is Surfshark's private search engine. What's great about it is it's zero logs and completely ad-free, so you won't have to deal with annoying ads following you around the web. It's also a great tool to stop trackers from collecting your data via cookies. If you've ever used Google Chrome's incognito mode to hide whatever you're doing online, Search works the same, only better.
As for Alert, it is Surfshark's version of Data Breach Monitoring. It is designed to secure your personal identification number and credit cards against fraud, identity theft, and all sorts of cybercrime. It can also check for password vulnerability and monitor your email accounts to see if it appears in data breaches. If it does, Surfshark will send a warning so you can take action as soon as possible.

Ease of Use & Performance
Have you ever bought software before and ended up not using it because it's too complicated? Well, the same could happen with an antivirus program that's meant for cybersecurity professionals. Thankfully, Surfshark antivirus is quick to install and easy to use. This is perhaps owing to their mission to "humanize digital security and make it hassle-free from the user's perspective." In addition, it uses minimal system resources, so it will keep you protected without slowing down your device.
Number of Licenses & Package Details
You can protect as many devices as you'd like with Surfshark VPN; however, that's not the case with their antivirus. Surfshark antivirus will cover only 5 devices, but that should be enough for a household with multiple devices. Surfshark One can be purchased monthly ($14.44), bi-yearly ($4.29/month) or annually ($3.98/month). Or, if you're already a Surfshark VPN subscriber, you can just add $1.49 on top of it to get Surfshark One (Antivirus, Alert, and Search).
Customer Support
Surfshark's customer support is fantastic. We weren't sure how current Surfshark VPN subscribers could upgrade to Surfshark One, so we jumped on the chat. Took less than a minute to connect with a representative who gave us the link. Their customer service, which is available 24/7, has been pretty consistent in the years that we have their VPN app, so this was hardly a surprise. Other than chat, customer support is also available via email at support@surfshark.com.
Bottom Line
Surfshark One was only released last year, so it's definitely far from perfect. For example, it could use an integrated firewall, vulnerability scanner, or maybe a password manager. Still, the VPN and antivirus combo are already pretty solid, and the addition of Surfshark Alert and Search made it pretty well-rounded and great value for money.