In this Intego Antivirus review, we're delving into the features and reliability of this antivirus which was originally made specifically for Mac's operating system.
There is a myth that is commonly circulated that Mac computers can't get viruses and that you therefore do not need to install any software that blocks viruses. This is not true, and this myth leaves thousands of Mac users vulnerable to all kinds of viruses and malware which can leave your computer, and all of the private information, at risk.
Intego is one of the companies which has specifically tackled this problem with their antivirus, which we've named the best Mac antivirus software. So, what are the impressive features of Intego? Why is it so highly regarded? We explore more below.
Company Background
Macintosh users have been able to take advantage of the software created by Intego since 1997. The brand claims to be the only out there which is working exclusively on security products for Apple products. They even have protection for iPhones and iPads.
The programs they make are designed to be inclusive so that they can be used by professionals and security experts but also by the average home user.
Intego has continued to work on the security of their products as Mac's have developed and ensured that they are always up-to-date with the latest operating systems.
The company has also received a number of accolades since they launched.
Awards and Prizes
The company has received lots of prizes and certifications as well as awards. These show the reliability of their products. Awards they have won include:
Top Ten Review Award of Excellence 2016
Macworld Editors Choice 2014
AV Comparatives Approved 2016
Mac Informer: Editors Pick 2014
The company has also received a number of extremely impressive reviews including one from About.com (5 stars). The software is well received among many Mac magazines.
According to AV-TEST, the leading German antivirus laboratory, Intego has 100% detection rates of macOS malware.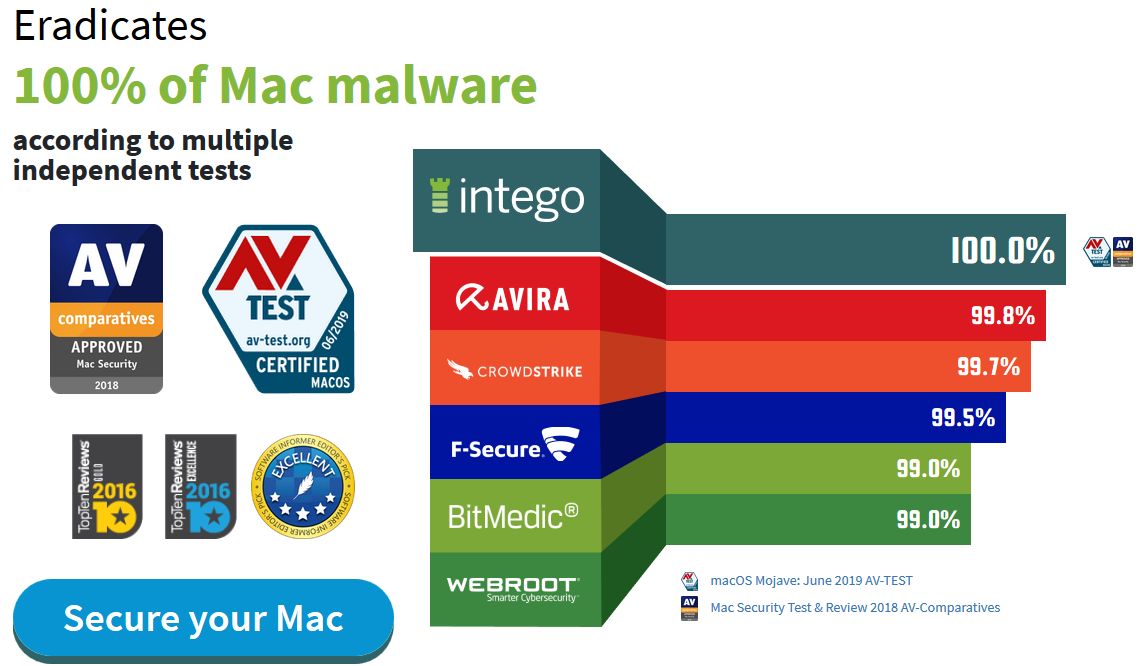 Security Features
The security features of the Intego antivirus software includes protection from Macintosh malware. You can also pass viruses along so this extra security can protect from this. If you run a PC separately, too, they can offer protection from this in association with Panda.
Automatic Scans are an excellent feature which means that files get scanned when they are opened and that you are covered whenever your Mac is being used.
The antivirus checks for updates, too, which means that new threats are assessed and that you are always protected.
The simple interface is another big benefit, and fits in with the Macintosh brand. The software runs effectively and is very easy to use and monitor.
A location-aware firewall is designed to protect your Mac when you are traveling and using new networks. It also blocks connections from untrusted devices and protects your mobile hotspot.
Intego NetBarrier is included which is a two-way firewall that gives you anti-spyware functionality. It lets you know when a new connection is opened and allows you to block anyone trying to access your Mac remotely.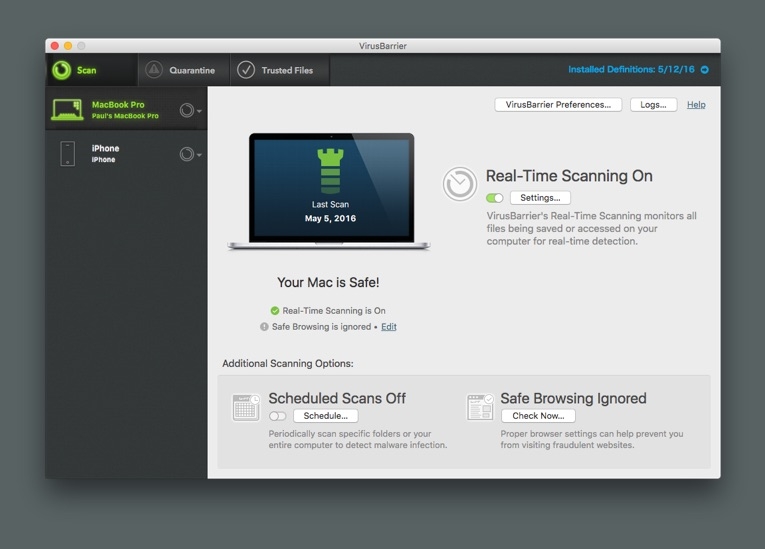 Additional Features
Added bonuses such as email notifications when a virus is found and deleted also give you a little bit more of an idea what the software is doing and when you are under threat.
As well as scanning the computer and software like email clients, any external storage which is connected to your device can also be scanned automatically such as external hard drives and pen drives.
In addition, the software boasts:
- Parental controls with website and application blocking
- Protects sensitive personal information
- Cleaner speeds up and organizes your computer
- Personal Backup software for quick and easy recovery in case of a crash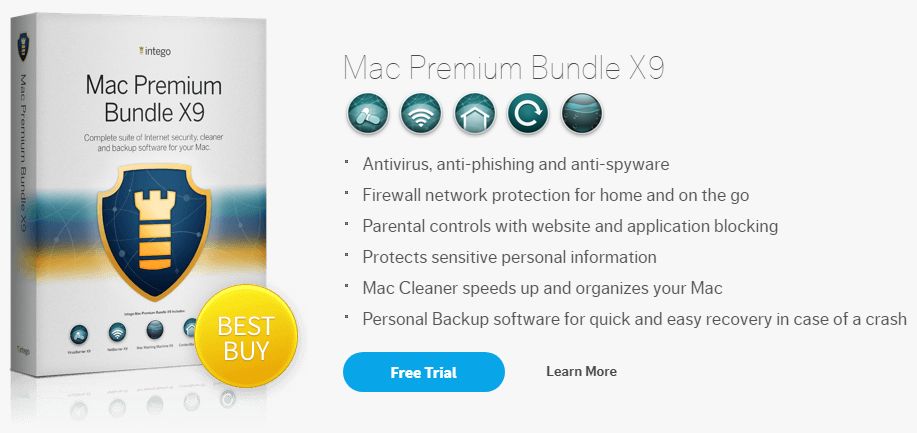 Ease of Use and Performance
This couldn't be easier to use. The simple interface gives clear instructions and a lot of different options. You can tell your Intego software how to deal with new connections and new devices, when to send you notifications and which devices and networks to trust. This can all be done with ease, even if you are a total beginner.
Number of Licenses and Package Deals
We have a special deal on Intego for our readers. This means that instead of the standard price for a license of $39.99 per year, you can get your license for just $19.90 per year.
There are additional discounts available if you buy a longer, two-year license.
The Intego antivirus can also be bought with a license for multiple computers and devices. Up to five computers can be protected for $33.99 yearly, or if you go for a two-year license this costs only $62.99 (instead of the regular price of $134.99). These kinds of packages are great for small offices and homes with a few different computers and are only available via our link.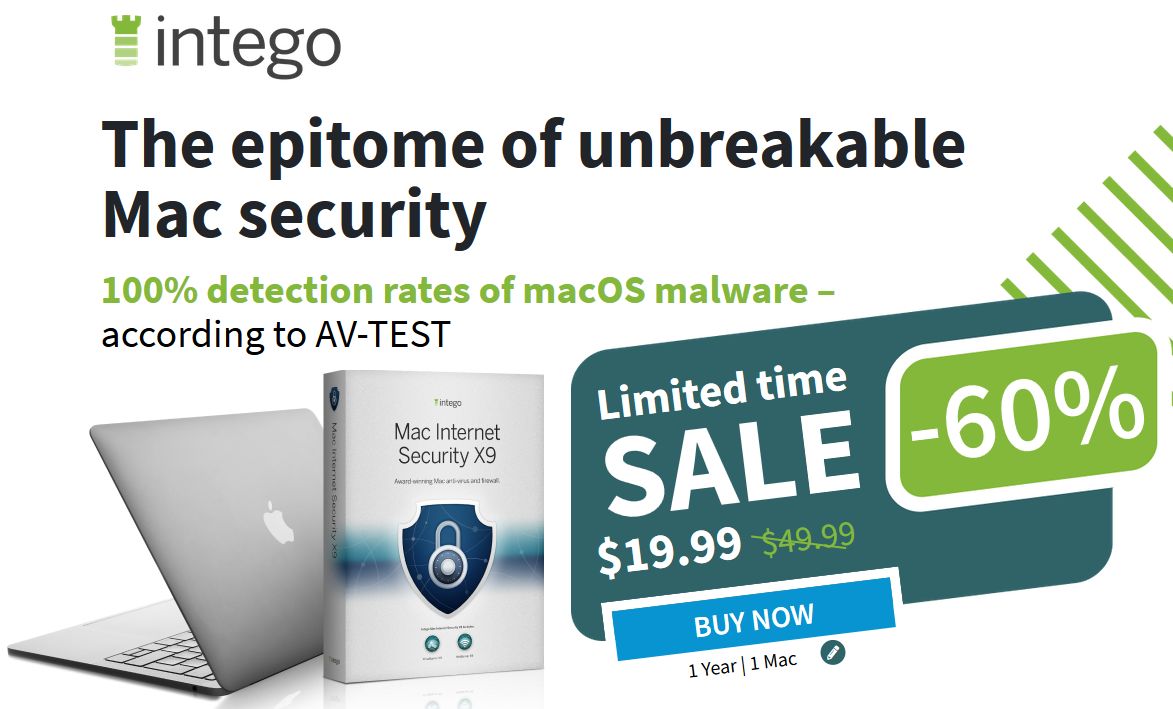 Customer Support
Intego's customer support is another of the reasons they have gained such a reputation for being reliable. Their website has an excellent knowledge base, which means that you can usually find the answer to any query instantly online.
If you can't find the answer in the knowledge base, there is also a forum which allows you to search for whether someone has already answered the question you have or the help you require. If neither of these methods do the trick, the company operates a support ticket system, a simple form needs to be filled in on their site and a member of their support staff will get back to you.
Bottom Line
Intego's specialism in Mac is a huge advantage. Their software feels intuitive and is exceptionally easy to install and operate, whatever your knowledge of the Mac operating system is. They also quickly adapt to the new OS systems Apple tends to release.
Ease-of-use isn't the main advantage though, you need safety and to know that however your computer is being used, it isn't susceptible to malware. Full, reliable protection have seen Intego's award-winning software named the best antivirus for mac on our site.