Company Background
Norton has been around since 1990 when the internet and computers were becoming widespread and user security was a new frontier in business. Since their founding, they have broadened their scope from business security to home security and have remained a dominant force since their entrance into the market. Today, they focus on security suites which are suitable for both home computers and mobile devices.
Awards and Prizes
Norton has won many awards over its years of use. PC Magazine gave Norton an Editor's Choice Award in 2015, reflecting superior quality and usability for consumers. From AV-test, Norton won an Innovation Award, also in 2015. Top Ten Reviews' Randall Sutherland gave Norton a 9.2 out of 10, citing its broad protection and great user-friendliness.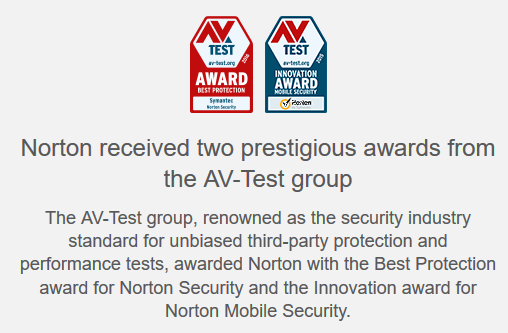 Security Features
Norton's security software is comprehensive.
Norton primarily guards your computer with a Smart Firewall that is updated both daily with fresh virus definitions to aid with firewall security and an annual update that's more comprehensive. This firewall is constantly running and checks everything that comes into your computer. This is best shown with the software's advanced warning system, which makes a small popup appear every time something Norton is unsure of prepares to enter your computer. It gives you the option to block or allow incoming data packets in this manner.
Norton also automatically scans for threats from email attachments, as well as links on Facebook posts or messages. An in-depth scan is always available from the security hub, which allows you to initiate a total scan of your computer. This scan can remove junk files which cause your computer to slow or viruses which have already integrated into your device prior to Norton's installation.
Certain Norton packages also offer a secure VPN. This feature masks your real IP address to prevent identity thieves or viruses from tracking your activity and finding out details about your life. Norton also provides a 'Safecam' feature to prevent viruses from tracking you as you use your webcam. This is an excellent feature rarely seen in other antivirus packages.
There are several highly-trusted companies which have reviewed Norton's performance in independent testing. From Dennis Labs, Norton received a AAA rating and a 100 percent accuracy rating, reflecting its identification of viral threats. AV-test, a German independent testing lab, Norton received high ratings in all categories: 6/6 for Protection, 5.5/6 for Performance, and 6/6 for Usability.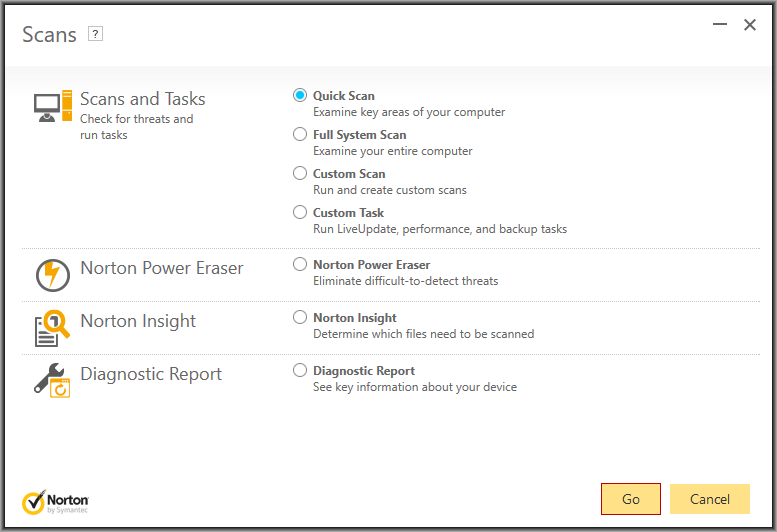 Additional Features
Norton provides, depending on your software package, some amount of cloud data backup in the event of hard drive failure or the theft of your device.
Password protection is included in all Norton packages.
Norton provides Dark Web Monitoring, too. This feature scans the dark web, which is composed of webpages not publicly available, for your personal information to alert you of possible identity theft.
LifeLock is the final Norton feature suite, which focuses on superior identity protection capabilities. This suite provides dark web monitoring, credit monitoring, an Identity Alert system to inform you of possible identity theft, and financial protection packages in the event that your information is lost. This makes Norton an excellent choice for those who perform a lot of transactions online.
The family protection features by Norton are considered as the best in the industry by almost all antivirus review sites and testers, so if this feature is important to you, getting Norton as your antivirus suite should be a no brainer.

Ease of Use and Performance
Norton's applications are controlled via a central hub that can be accessed via your desktop. This interface has consistently been rated as very easy to use and intuitive in design.
Norton is known to run somewhat heavily on certain computers due to its high number of features and very comprehensive Smart Firewall. This firewall is responsible for scanning virtually anything that tries to interact with your computer, so the tradeoff for total protection, in this case, is a little less speed. McAfee, on the other hand, offers around the same amount of protection with better performance. However, McAfee does not offer as many extra features or identity protection perks.
Norton has consistently won tests in which the primary goal was to clean up junk in a computer and eliminate embedded viruses. This exceptional thoroughness is paid for with more of a tax on your computer's processes.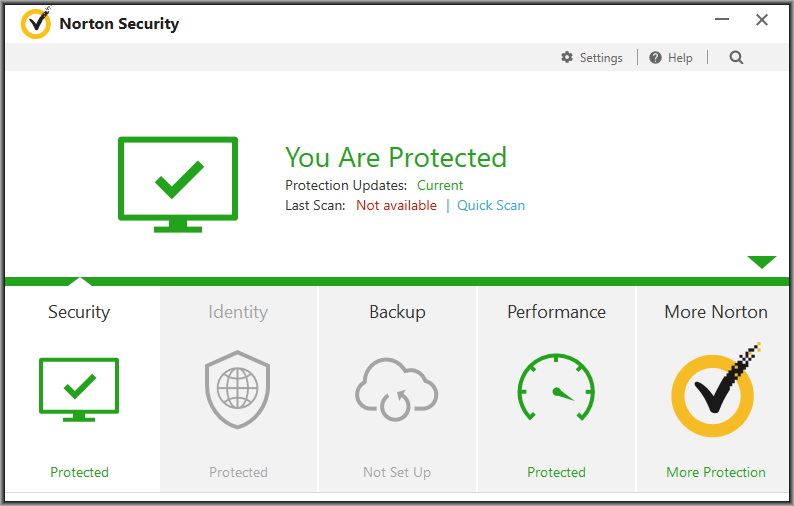 Number of Licenses and Package Deals
Norton has four primary package deals which come with varying numbers of licenses.
Norton Security Standard: This is the basic Norton antiviral package. It contains a license for one PC / Mac or mobile device and has the main host of Norton security features and capabilities, including the Smart Firewall, automatic updates and the unique 100% Virus Protection Promise.
Norton Security Deluxe: Gives you the same protection as the Standard package but for up to 5 devices (including mobile phones or tablets). This package offers the same security features mentioned above.
Norton Security Premium: This is a 10-license package which includes all of the features described by the Security Deluxe package but for 10 devices. It also includes automatic back ups and 25 GB of cloud data storage and premium online family safety features.
Norton Security Deluxe with LifeLock STANDARD: Like the Deluxe package, this offers licenses for 5 computers or devices. In addition, you receive the entire LifeLock feature package: 1 year identity theft protection including dark web monitoring, the LifeLock Identity Alert System, credit monitoring, and financial protection.
Please visit the Norton website via our link to read more about these various packages and special offers.
Customer Support
Norton has a detailed customer service network that focuses on consistent availability no matter the time or day or week. You can receive help online via support forums, customer service chat, and a 24/7 call line. There are always agents available to talk to and help work through technical issues or questions regarding the software.
Bottom Line
There is a reason why Norton is one of the strongest brands in the antivirus business. Not many providers offer such a wide range of well working features, excellent support and thorough protection. This is an excellent antivirus software program that's perfect for those who do a lot of business online, as well as those who require extra family safety features.