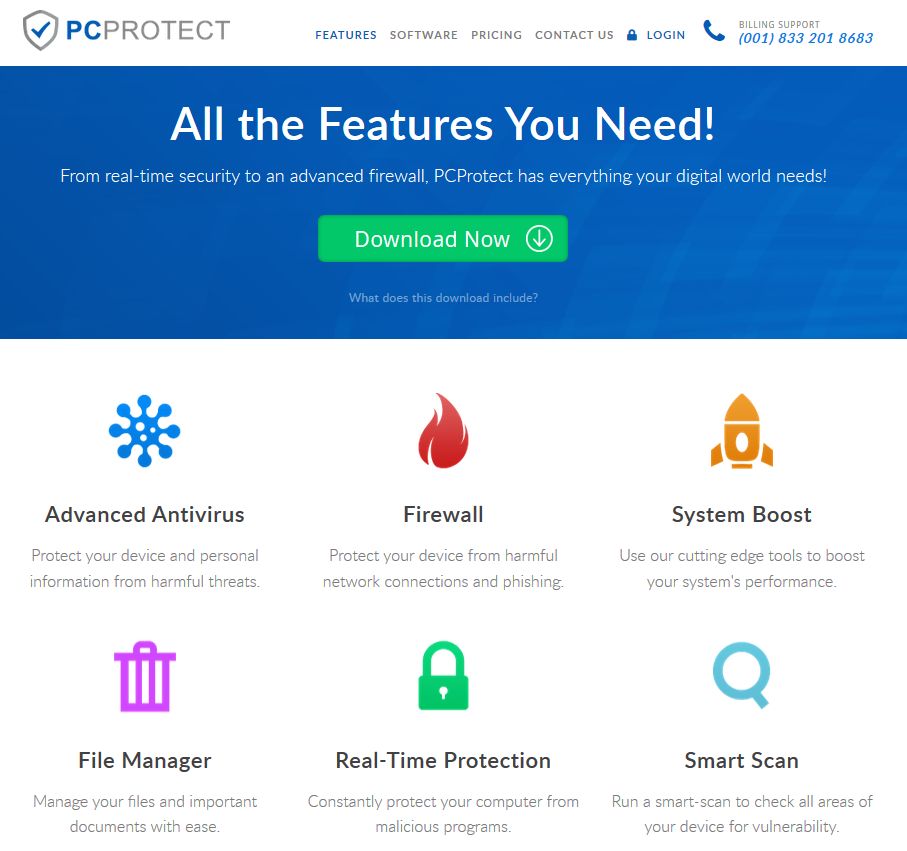 Company Background
PC Protect antivirus is developed by the same company that owns TotalAV and Scanguard. Established in 2016, SS Protect Limited is currently headquartered in Hampshire, England.
Security Features
Right from the get-go, it is clear that PC Protect aims to keep your digital life safe in every aspect. Complete security suites are definitely not something that all other antivirus software packages can deliver. In comparison, this antivirus promises to protect your device from local threats, adware, phishing websites, spyware, and browsing data encryption to keep your online activities fully secure and private. Plus, you get to cover a wide variety of platforms and devices within the same antivirus.
Despite being relatively new in the industry, PC Protect is certainly not lacking in features. For starters, it does an in-depth scan that recognizes potential threats in real-time and automatically stops it before it causes any irreversible system damage. This antivirus is also dedicated to removing malware, spyware, and adware. You know those annoying pop-up offers that constantly appear on top of your screen? Those are adware and PC Protect can effectively get rid of it so you can work or surf in peace. If you have been getting emails with suspicious links in them, you won't have to worry, as long as you have this antivirus running in the background. It is designed to detect and block malware websites and downloads as well as Phishing websites.
System Boost is another welcome feature as it works to uninstall or stop unnecessary programs and processes as well as clean your files up to improve your PC's boot time and ensure that it's operating at its optimal performance.
Additional Features
Besides offering a superb anti-malware solution, PC Protect goes one step further with Identity Protection. This feature is pretty straight-forward. In case some unsavory individuals try to take any loans or debts under your name, the software will alert you to prevent such unauthorized transactions. This is, of course, on top of keeping your online and offline identity private.
Another welcome addition is the Browser Manager with which you can easily clear history, cache, and tracking cookies after each session to keep your browsing experience fast and safe.
PC Protect also offers its own Password Manager and advanced firewall tools to prevent rogue websites from trying to do you harm.
Ease of Use and Performance
If you are the type to install something and then forget about it hoping that it does what it's supposed to do then PC Protect is definitely for you. Even for a technophobe, installation on PC's, laptops, and mobile devices will be a breeze and once it's running in the background, you can get on with more important things. There is no need for tweaks or input except for some customization (should you prefer) like scan frequency or permission.
One of PC Protect's biggest draws is that it can be used on a wide range of platforms and each comes with a user-friendly interface. For example, do you have a Mac computer and an iPhone while your partner has a Windows laptop and an android device? What about your kids who may each have a different mobile device running on multiple platforms? No problem! PC Protect can protect iPads, iPhones, Windows, Mac OS, android Tablets, and android mobile devices.
The interface itself is easy to use and navigate. It boasts a clear black dashboard and strong, bold buttons. It's easy to switch between a quick scan and a full scan and if you've set up an automatic scan, you can just sit back and relax while the antivirus does its thing.
Number of Licenses and Package Details
There are currently three packages to choose from and all are backed with a 30-day money-back guarantee. You can get the Essential Antivirus package at a 75% discount for $24.95 (prices are subject to change). With all the inclusions, you're definitely getting more than the bare minimum! You are getting New Ransomware Protection, Real-time Antivirus Protection, Anti-Virus, Trojans, Adware, Spyware, and Malware Protection, and protection against phishing scams. In addition, it includes a Disk Cleaner, PC performance, and Optimization Tools, Remote Firewall Protection, Web Shield Extension, and Web Browser Cleaner and Manager.
Pay $15 more for the Pro Antivirus package and you get three licenses and two extra features: Performance and Optimization Tools and a Safe Password Vault.
Aptly named, the Ultimate Antivirus plan gives you all of the aforementioned features plus a 24/7 priority customer support, with Smartphone Optimizer and Protection. You also get 5 licenses which makes it the perfect family choice at only $59.95.
Customer Support
This is one area that some antivirus solutions tend to overlook. Fortunately, such is not the case with PC Protect. On top of their extensive knowledge base which includes setup and installation guides, there's also access to live chat support. We tried this feature and we were able to connect to an expert in seconds. While we can't say that the experience will be the same across all agents, we can say that ours was pleasant and straightforward.
Bottom Line
PC Protect is definitely a strong contender when it comes to antivirus solutions. We like that it has a strong malware protection program and a few extras guaranteed to keep your browsing experience smooth and safe. We also like that it can detect and isolate spyware and malware in real-time across all devices and multiple platforms. More importantly, the smooth user interface and round-the-clock support really set it apart from the competition.
| | | | |
| --- | --- | --- | --- |
| | ESSENTIAL ANTIVIRUS | | |
| Real-Time Antivirus | Upgrade Your Antivirus Protection and Eliminate Malware, Spyware & Viruses in Real-Time | | |
| Advanced WebShield | Advanced protection against malicious websites and block attempts to steal your personal information. | | |
| Yearly Protection | In order to keep your devices protected 24/7, 365 days a year, we provide hassle-free, continuous antivirus protection. | | |
| 30 Day Money Back Guarantee | We're so confident that you won't want to leave PCProtect, we'll give you your money back if you do. No questions asked. | | |
| System Tune-up | Enhance the performance of your desktop computer and free up disk space. | | |
| 2 Additional Licences | Real-Time Antivirus Protection for 3 total devices. Compatible with Windows, Mac, iOS & Android | | |
| SafeBrowsing VPN | SafeBrowsing hides your IP address and encrypts your network data | | |
| Duplicate File Finder | Free up wasted disk space. | | |
| Junk Cleaner | Safely clean your system | | |
| Eliminate Tracking Cookies | Although tracking cookies are not directly harmful, they do raise privacy concerns which we can help to overcome. | | |
| Password Vault | Generate and store unique, strong passwords | | |
| Windows, Mac, Android & iOS Compatible | | | |