Company Background
BitDefender is a privately held company that was established in 2001 by Florin Talpes in Bucharest, Romania. BitDefender has been steadily rising in the ranks over the last several years, with 2018 seeing them supply antivirus software to more than 500 million users worldwide. Also, as of 2018, they stand in fifth place in the global market share rankings for Windows antivirus vendors.
Awards & Prizes
Year after year, BitDefender receives industry awards and recognition. To name a few of their more recent awards they received multiple Advanced+ awards from AV-Comparatives in the past year. These awards included an award for real-world protection and another for malware protection. AV-Test has also awarded them multiple times for best performance and best protection. These are just a few of the numerous awards BitDefender has won for their antivirus protection packages.
Most notably, BitDefender won the Product of the Year award presented by AV-Comparatives after continuously winning Advanced+ ratings in the categories of Real World Protection, Malware Protection, Performance, Malware Removal, and False Alarms. BitDefender has taken home this award two times.

Security Features
As with most antivirus packages, BitDefender has a free version as well as premium versions. The free edition includes the very basics of an antivirus, threat defense, and ransomware, as well as web attack prevention, which keeps you from visiting harmful websites. For features like parental control, a firewall, and file encryption, you'll need to upgrade to one of their premium security packages.
In terms of malware protection, BitDefender outranks most antivirus packages. In third-party testing done by AV-comparatives, BitDefender ranks highest when it comes to blocking unwanted attacks.
We mentioned awards above, but it's insightful to also mention third-party lab tests which are performed on antivirus software, and the kind of scores BitDefender continuously receives.
If I were to sum this up in a few words, it would be BitDefender continues to wow.
In addition to the Product of the Year award mentioned above, handed out by AV-Comparatives, BitDefender has earned a AAA certification from SE Labs and received the highest possible test scores from MRG-Effitas, an organization that tests efficiency. Lastly, the AV-Test Institute, who also test and rank antivirus programs, work on a point system. BitDefender collected the highest possible amount of six points for each category tested.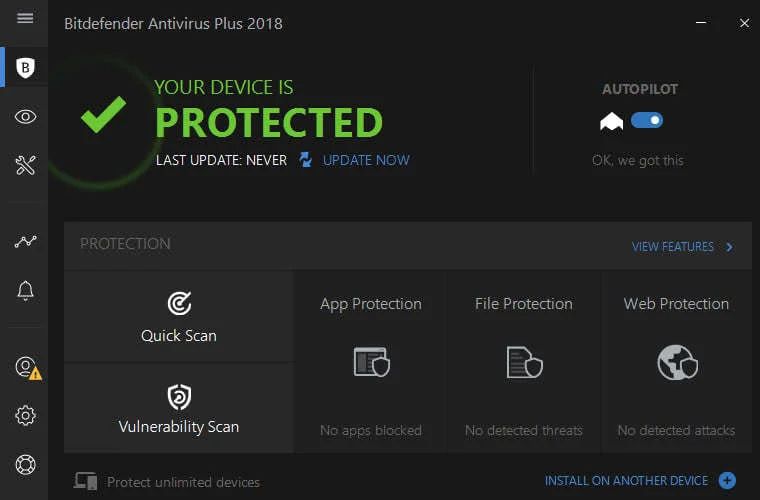 Additional Features
As mentioned above, BitDefender does have parental controls, but this feature is only available in their premium packages. These packages also include webcam protection and a firewall.
The mid-tier package available from BitDefender is a well-rounded package that also includes a VPN. It should be noted however that the included VPN is limited to only 200 MB of traffic per day per device. That applies to the top tier package as well.
One clearly unique feature available in both the mid and top tier package is something called Online Banking Protection. This feature, called Safepay, provides you with a secure, dedicated browser through which you can do all of your shopping or banking.
Ease of Use & Performance
BitDefender boasts a new user interface, a security dashboard that's easy to understand, and easy to navigate. With the program running in the background, it has very little impact on system performance, so you don't need to worry about it slowing you down in that aspect. However, it is significantly slow when doing its initial disk scan after install and set up.
Number of Licenses & Package Details
The basic difference between the 3 main Bitdefender packages is that only the top tier package 'Total Security 2020' offers protection for Windows, Mac, Android & iOS. The other two packages are suitable only for Windows PCs. Fortunately, the difference in price is not very significant so we recommend going with the top tier package that covers up to five devices for one year.
Customer Support
BitDefender does all they can to offer support to their valued customers. You first have the option of browsing for answers in their Knowledge Base articles as well as a healthy selection of how-to videos.
If you are looking for more direct support options, you can also find a phone and chat option. Lastly, they have a busy forum where you can find help from your BitDefender peers or support from a BitDefender employee.
Bottom Line
BitDefender is an outstanding program priced extremely competitively in the marketplace and in terms of security, there is little difference between the mid-tier and top-tier packages. There also isn't a significant price difference between the two, but if you're looking to save a few pounds, the mid-tier package is more than acceptable.
If for nothing else, based on the reviews and awards this product has earned, you should feel confident that BitDefender can protect you and your household with all the Internet security you could need.