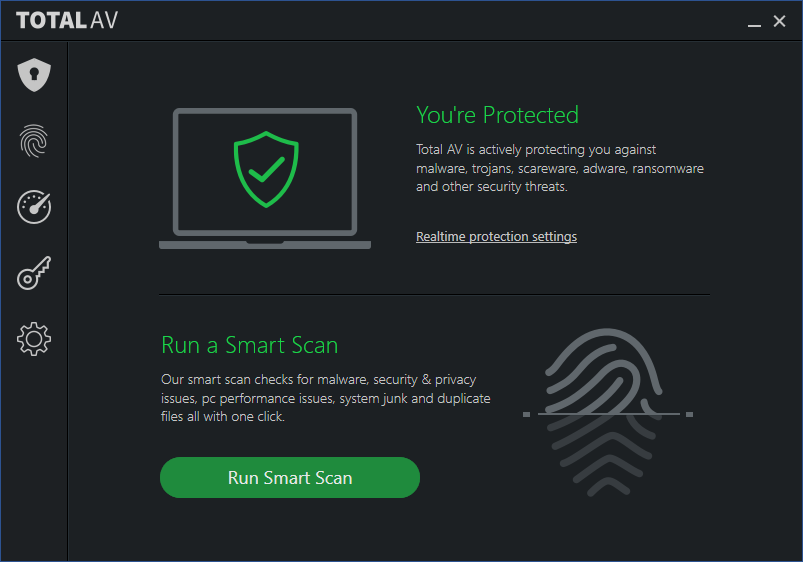 Company Background
The company behind TotalAV is SS Protect. They are based in Hampshire, UK and have approximately 40 employees. They also have offices in Venice, California.
Security Features
From the free version to the premium versions, TotalAV is a feature rich program. The free version includes all the basics needed to keep you and your device safe. It's lightweight, yet powerful. There are three tiers to the premium version, with the Ultimate package giving you the basics available in the free version plus real-time protection, protection for your smartphone, and more.
TotalAV scored high points in detecting phishing sites against test samples and outperformed phishing protection software that is built into several Internet browsers.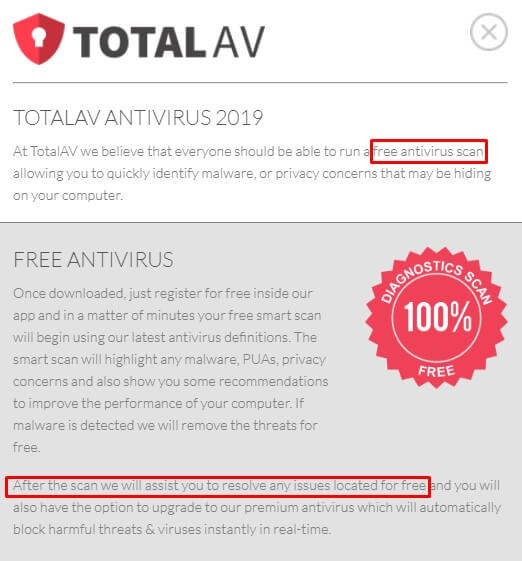 Additional Features
TotalAV's Ultimate antivirus package includes a password manager called the Safe Password Vault, a VPN, as well as Smartphone Optimizer & Protection. This security feature is an all-in-one cross-platform feature that will keep you protected no matter where you are, in the office, at home, or on the go. With the Optimizer, you are able to accelerate performance while securely browsing, not to mention boost your phone's memory.
An additional Safe Browsing VPN add-on means you can remain fully anonymous while on the go. (Note, this add-on is sold separately.)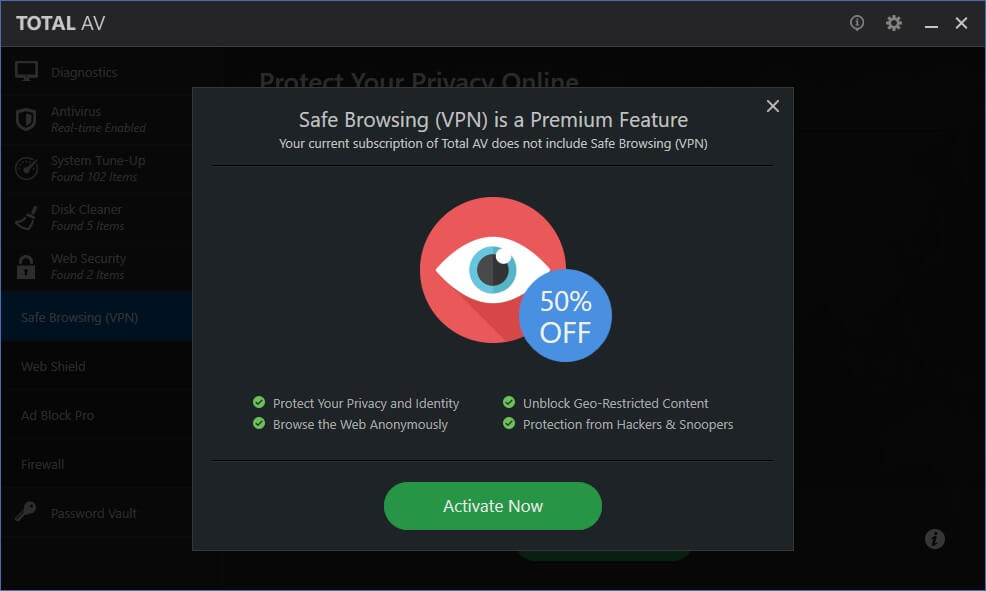 Ease of Use & Performance
Tired of confusing UI (User Interface) that are difficult to navigate? Then TotalAV is the clear winner. Its main dashboard is well laid out and broken down into four feature areas that are clearly identified and easy to follow. Navigating this main dashboard is a breeze.
Even before you get to the point of where you open your new program, TotalAV wows with its straightforward download and install. No need to spend hours choosing options and setting up various features manually.
Whatever platform you're working on, Windows, Mac, iOS, or Android, you can be sure that this lightweight, yet powerful program won't impact your work or play. System processes are streamlined allowing you to do what you need to do.
An added benefit from a performance standpoint is TotalAV is continuously checking your system — looking for issues that could impact performance, then dealing with them. Also, if you're at a point where your hard drive is nearly full, and you're constantly looking for things to delete, TotalAV has a feature that searches out duplicates and gets rid of them. All of this is carried out in the background without impacting the speed of your system.
Number of Licenses & Package Details
If you're looking for the free version, you can download it onto a single device, but be aware, this is not the full-featured program.
If you choose the full program, they offer a 30-day money-back guarantee, so you essentially have a testing period with the product. This zero risk offer alone should be enough to get you to give TotalAV a try!
There are some significant additions in the ultimate package and these include the Password Vault, Smart Phone Optimizer & Protection for both iOS and Android devices, and the Safe Surfing VPN. If these are programs that you don't already have, then looking at the Ultimate package is definitely a good idea. VPNs are becoming more and more necessary for protecting our data and protecting ourselves against those who would spy on us. So it may be that despite the higher cost the Ultimate version is the most cost-effective for you.
Note that while the TotalAV free version is an excellent program, it does not include real-time protection. So my opinion is you should opt for going to one of the premium versions even if you decide on the lower end premium version.
Customer Support
TotalAV offers stellar support. You have an option of searching their knowledge base articles and FAQs or going right to the source and contacting them via phone, email, or chat.
Bottom Line
The free version is very capable when it comes to malware protection, but my recommendation is to take a look at the midrange antivirus Pro package, at the very least. The amazing protection, coupled with awesome added features and stellar customer support make this one a clear winner!
| | | | |
| --- | --- | --- | --- |
| | TotalAV Ultimate Antivirus | TotalAV Antivirus Pro | TotalAV Essential Antivirus |
| Platforms | PC, Mac, Android, iOS | PC, Mac, Android, iOS | PC, Mac, Android, iOS |
| Number of Device Licenses | 5 | 3 | 1 |
| Advanced Ransomware Protection | | | |
| Real-Time Antivirus Protection | | | |
| Virus, Trojans Adware Spyware & Malware Protection | | | |
| Protection against Phishing Scams | | | |
| Free Up System Space with Disk Cleaner | | | |
| PC Performance & Optimization Tools | | | |
| Remote Firewall Protection | | | |
| Stay Safe Online With Web Shield Extension | | | |
| Web Browser Cleaner & Manager | | | |
| Antivirus eBook | | | |
| Safe Password Vault | | | |
| 24/7 Priority Super-Fast Support | | | |
| Smartphone Optimizer & Protection | | | |
| 30 Day Money Back Guarantee | | | |