Company Background
McAfee was founded in 1987 by John McAfee and quickly grew to become one of the world's largest antivirus software providers. As it developed its software suites and antivirus methods, the company's popularity grew to the point where it was purchased by Intel in 2011. Since then, it has joined the Intel Security Division and continued to grow and expand its products to evolve with the digital market.
Awards and Prizes
Over its lifespan, McAfee Antivirus has earned several awards from reputable testing sources and antivirus software review companies.
McAfee Antivirus has received Endpoint Protection Awards from AV-Comparatives, a company dedicated to testing antivirus software. From AV-Test, it won an award for its perfect score for its usability.
McAfee's awards and accolades don't end there; in 2018 it earned a Tech Innovator Award for Endpoint Security from CRN and received a Leader award from G2 in Endpoint Protection in 2016.
All of this information confirms that McAfee Antivirus' protective abilities are excellent and efficient. Its performance rating is not as highly-rated as its protective capabilities, but the breadth of coverage offered by McAfee packages makes it a great buy for homes with multiple devices and various users.

Security Features
All of McAfee's antivirus and scanning features are accessed through a central, user-friendly interface where you can set operations, view metrics for performance and harmful files on your computer and monitor internet activity and data.
The antivirus aspect of the software is updated constantly through deep scans of the internet, which contribute to your computer's firewall database. This firewall is then prepared to keep harmful files out of your computer, warning you before you allow anything else in to make sure that you don't accidentally allow a download which contains harmful software. In the event that a virus does get downloaded, McAfee can then scan your computer and delete the harmful file, since it knows what the virus looks like.
When it came time to perform independent tests from AV-Test.org, a testing center dedicated to finding the best antivirus products, McAfee received perfect scores in both the 'usability' and 'protection' categories, 6 out of a possible 6. For performance, it received a 5 out of 6, nearly perfect. This indicates that McAfee provides excellent protection from viruses with efficient, easy customer interfaces.
For AV-Comparatives, another antivirus testing organization, McAfee Antivirus won awards and merits for categories in real-world protection tests, performance tests, and malware protection or removal tests. However, it did not score awards in false alarm tests.
Finally, from NSS Labs, McAfee blocked 98.38 percent of exploits in their test report: a very excellent score for holistic antivirus defense ratings.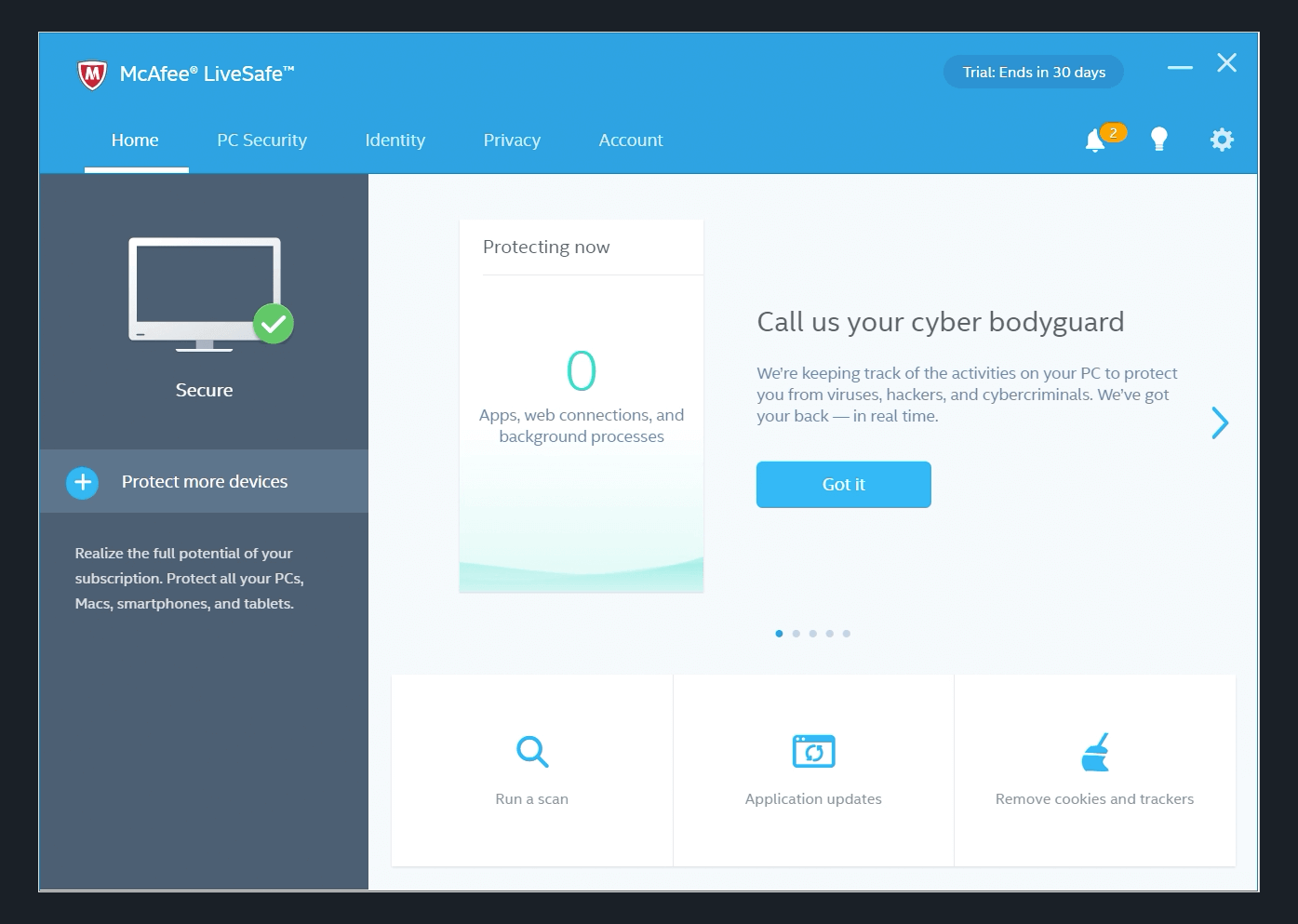 Additional Features
McAfee's license packages also come with scanning tools and optimization software that help tune your computer for peak performance. These work by identifying wasteful or junk files already in your computer which may be slowing down processes or by identifying background processes which are taxing your computer's resources but not providing any benefit.
McAfee also offers a 'Permanent Delete' feature, which allows users to erase sensitive files that they do not wish to accidentally be spread. This is a valuable tool to prevent identity theft.
Ease of Use and Performance
McAfee's user interface is an intuitive control panel accessed via the desktop or taskbar and allows for total control of the software's processes through one organized menu. From this menu, you can begin scans, target specific files, order updates, or purchase additional software via McAfee website links.
In terms of performance, McAfee tests very well. Its drain on your computer's speed and power are felt the most when it's performing a full-system scan but are otherwise unnoticeable. Its firewall, the primary means by which it protects against viruses, does not tax your computer during day-to-day operation. Norton, by comparison, has extensive protection and is somewhat better at removing viruses that somehow manage to infiltrate a computer, but it taxes your system's performance more noticeably, although both software suites overall test well in this regard.
McAfee protects lots of devices and has a great variety of features or actions for tuning, scanning, or optimizing your computer or device. This makes McAfee a top choice for those with multiple devices with different security needs or focuses.
Number of Licenses and Package Deals
McAfee Total Protection: This is McAfee's flagship product. It's offered in bundles for one, five, or ten devices so that the consumer can determine the best bundle for their needs. For instance, small homes with a few devices will enjoy the five-device bundle while larger homes or smaller businesses might need the ten-device bundle. Those with one computer only can save money by selecting the single-device model.
McAfee Total Protection comes with the full suite of the company's antivirus shields, scanners, and databases. It includes the centralized control panel from which all aspects of the antivirus are controlled and optimized. In addition, it has the scanning and computer-cleaning software which are designed to increase your computer's performance in the long run.
Please note that the Safe Family function is only included in the 10 device package.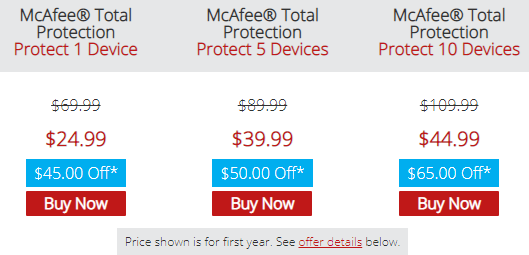 Customer Support
McAfee offers community forums where users can assist each other or form collective opinions about the software for feedback to McAfee's developers. In addition, customer support is always available from a variety of methods: chat, phone, or email support is found within a few clicks. In fact, a new, virtual technician has been created by McAfee to help users work through common errors or problems with excellent efficiency.
Bottom Line
McAfee Antivirus is a well-designed product that offers some of the widest range of services and functions for home use, especially those homes with multiple, different devices. It is ideal for networks of computers that operate together frequently and who interact with the internet multiple times on a daily basis, as McAfee's antivirus and scanning abilities are quite effective. McAfee's intuitive user interface allows it to be managed without frustration and its performance ratings are more than acceptable considering the thorough defense it offers to computers or devices under its protection.