About the Company
Heimdal Security is a Danish company founded in 2011. The company is true to its roots and has related its products to the legendary Norse-figure: Thor.
Though Heimdal is a young company compared to other names in the security industry; it's gradually rising to the top. The company is determined to develop new technologies to protect their users against security breaches and cyber threats.
Accomplishments and Awards
Since its inception in 2011, the company has been the shield against countless cybercriminal attacks and data security threats. Their esteemed clientele expands over 600,000 users and 5000 companies. Due to their outstanding service, they have been acclaimed with international awards in the last few years.
• Heimdal Antivirus won the "Most Educational Security Blog" in 2016.
• In 2017, the antivirus solution was nominated for "Anti-virus Solution of the Year".
• At the Computing Security Awards 2018, the company was crowned the winner of "Anti-Malware Solution of the Year" category.

Security Features
Thor Premium is one of the most advanced threat monitoring systems around here and blocks all external threats. But it lacks the ability to remove existing threats on its own. Still, Heimdal's next-generation threat detection is a worthy feature to have for any user.
The "DarkLayer Guard" is a comprehensive firewall feature that offers real-time two-way protection. The feature blocks transmission of all DNS, HTTP, and HTTPS packets as soon as they are deemed suspicious.
The "X-Ploit Resilience" makes sure that there are no unpatched vulnerabilities left in the system. Thus the system is protected from security threats such as zero-day attacks, traffic redirects and data leakages.
The antivirus also keeps a check on device to infrastructure communication which prevents viruses from attacking deep-level processes within the system. This feature of Vector Detection uses second-generation detection to protect the system's firmware.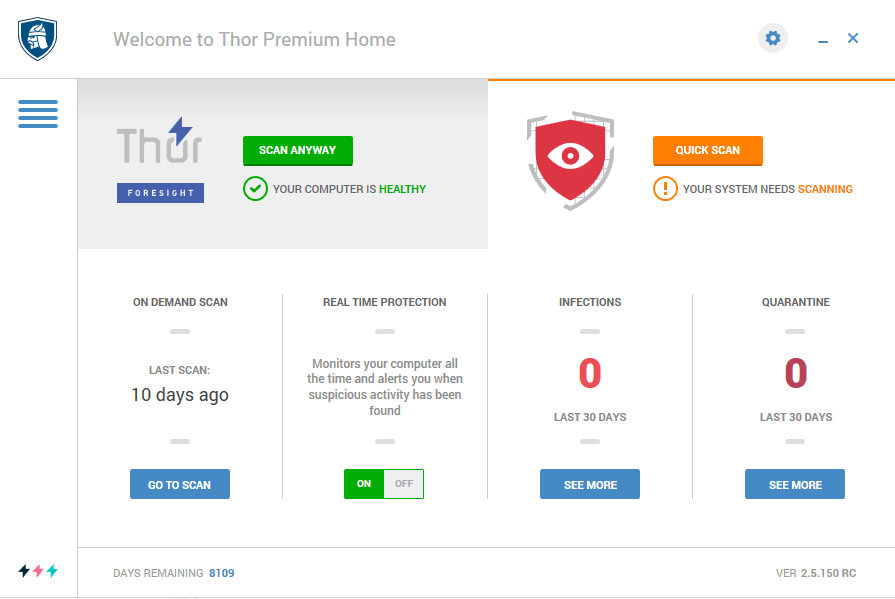 Additional Features
Thor premium Home comes with add-ons that improve the overall features of the software.
The auto-update coupled with instant software patching ensures the software is up-to-date. The TTPC tool allows users to inspect which processes the antivirus has blocked and release them if suitable.
The software takes care of vulnerabilities through multiple layers of protection. Security layers such as Anti-Ransomware, Anti-Malware and Anti-Scam protect the user from a number of cyber threats. Heimdal also includes a Web protection feature that is essential from blocking malicious websites.
Number of Licenses & Products
The company's product base is diverse and covers both domestic users as well as clientele from the corporate sphere. It has launched a free version for their customers to get a basic look and feel of their product.
Each consumer has different needs and the company offers defined pricing for their home-based customers. There is a range of packages and products from which users can choose according to their requirement. Moreover, for convenience, the company offers an extraordinary 30-day money back trial.
Thor Vigilance Home - Thor Vigilance Home has a strong firewall but lacks some antivirus features. Its functionality is coined around reactive protection and has premium features like sandbox and backdoor inspection. The product caters to three devices at just $29.98 and is valid for a whole year.
Thor Foresight Home - Thor Foresight home is an antivirus solution, missing the key features of a firewall. It's based on a mechanism of proactive protection that runs in the background and keeps your system clean. The product is priced at $34.98 for three devices and is valid for a year.
Thor Premium Home - Thor Premium Home is the exclusive product of the home-based line. The product couples both proactive and reactive protection mechanisms to come up with a complete solution. The product is reasonably priced at $34.98 and can be used by three devices for a year. Seeing as it's the same price as the Foresight package, you should definitely choose this one...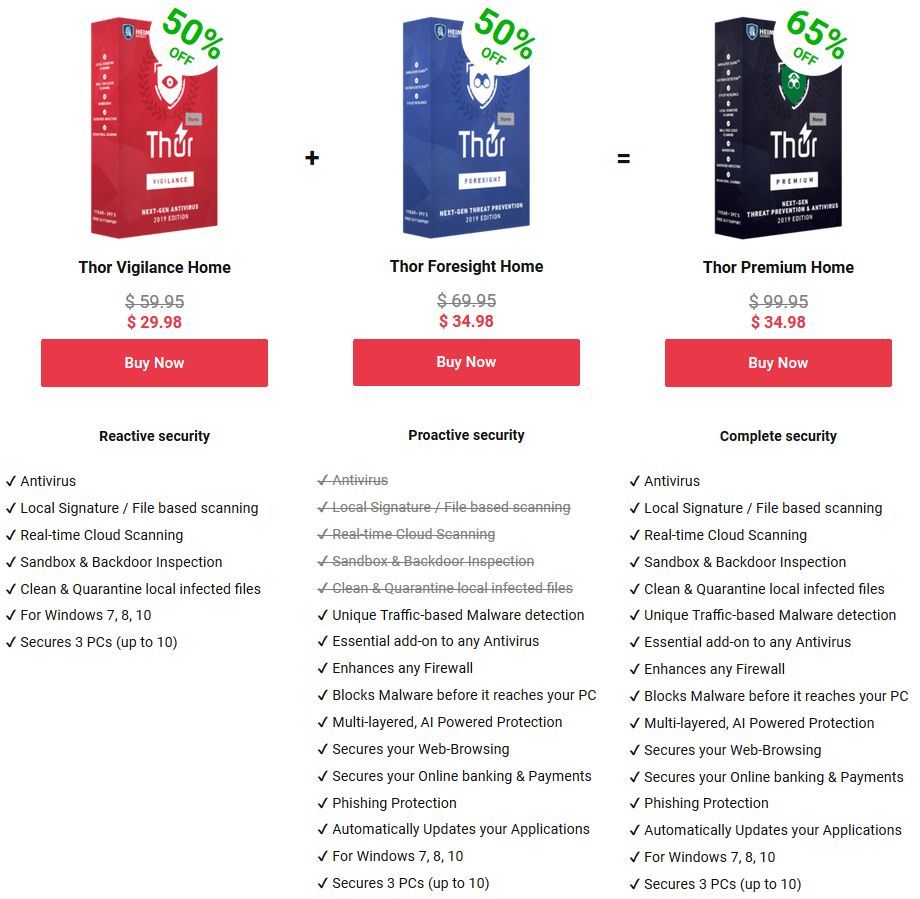 Ease of Use
The Heimdal antivirus products are simple to configure and easy to use. All you need to do is to download an installation file from the website and allow it initiate to a definitions update. As soon as it's installed, it launches a tool named "Heimdal Agent" on the main dashboard.
Users can choose between three skins to get user interface of their liking. The users can also overview system health reports from the dashboard. The software has limited yet focused set of features, allowing it to have a clean interface.
Support
Customer support is perhaps the most under-rated feature of any product. In Heimdal's case, it is one of its strongest components. Though the antivirus doesn't have a support section in the application, its website is home to an incredible "Education Centre".
The FAQ and Support sections of the website have comprehensive documentation. Also, known issues, new safety techniques and all the latest updates in the cybersecurity world are detailed for the convenience of users.
The company also caters an express email ticketing system. Where a user can report the problem he or she is facing. Trained representatives respond to these tickets and are available for the customers around the clock.
The Bottom Line
Though Heimdal Antivirus is not a complete security suite; its premium Thor features hammer away most cybersecurity threats through their second-generation malware detection and stringent low-level monitoring.
| | | | |
| --- | --- | --- | --- |
| | Thor Vigilance | Thor Foresight | Thor Premium |
| | Next-gen Antivirus | Threat Prevention | Complete Protection |
| | All deals are available for up to 3 years and 10 devices | All deals are available for up to 3 years and 10 devices | All deals are available for up to 3 years and 10 devices |
| | *MAC - only the traffic filtering module, Foresight, is available for MAC OS | *MAC - only the traffic filtering module, Foresight, is available for MAC OS | *MAC - only the traffic filtering module, Foresight, is available for MAC OS |
| 30 Days Money Back Guarantee | | | |
| VIP 24/7 Free Support | | | |
| Instant Delivery on Email | | | |
| Unique Threat Prevention of the Most Advanced Ransomware Viruses, Spyware and APTs | | | |
| Unique Traffic-based Malware Detection and Blocking BEFORE it reaches your PC | | | |
| Multi-layered, AI powered protection | | | |
| Secures your web-browsing | | | |
| Secures your online banking and payments | | | |
| Phishing protection | | | |
| Stops cybercriminals from extracting personal data | | | |
| Blocks Data Leakage | | | |
| Automatically updates your apps to close security holes in your PC | | | |
| Installs your favorite software securely and conveniently | | | |
| Firewall integration | | | |
| Next-gen Antivirus | | | |
| * Local Signature / File-based Scanning | | | |
| * Real-time Cloud Scanning | | | |
| * Sandbox and Backdoor Inspection | | | |
| *Process / Behavior-based Scanning | | | |
| Lightweight Installation and Smooth Performance | | | |
| Very Easy to Use | | | |