About the Company
Zone Alarm is an internet security software company that develops consumer antivirus and software products. The software was initially developed by Zone labs but was later acquired by the Israel-based company Check Point in 2004.
Check Point is a multinational company that deals with software and combined hardware and software solutions for IT Security. The company's products range from network security, endpoint security, mobile, and data security to security management.
Awards and Accomplishments
ZoneAlarm's formidable Firewall has been a benchmark for firewall capabilities in the antivirus industry. It has topped the Firewall rankings continuously over the last decade.
The PRO version of the antivirus was awarded the Editor's Choice Award by PC Mag in 2016. It also received an overall Excellent rating for its top performance. The antivirus was commended for its advanced Firewall capabilities and its incredible range of bonus features.

Security Features
Zone Alarm antivirus offers an array of unique security features that put it well ahead of conventional antiviruses. The antivirus's premium pack – Extreme Security does a stellar job at providing users the peace of mind they expect from a top-notch antivirus.
Newly installed antivirus systems are vulnerable to cybersecurity threats which aren't formally documented by a newly established system. Such threats are known as 'Zero-day attacks'. Extreme Security boasts a formidable cloud signature database which uses real time monitoring to detect any security anomaly. This feature permits the user to have protection against all kinds of zero-day attacks.
Extreme Security uses the 'Sandboxing' technique to securely scan email attachments for any malicious code. The antivirus collects email attachments approved by the user and sends them to a virtual machine where it is safely quarantined. Then these attachments are scanned against the technology's stringent virus definitions. All the malicious components of the email are scanned, segregated, identified and deleted. The information regarding these viruses is then relayed to the Zone Alarm network to protect other users.
The technology's antivirus program works on the most basic elements of the operating system. The kernel level scanning of the software ensures deep protection through its quickly updatable signature lists and customizable scan modes.
The antivirus's security feature that is commended the most is its advanced firewall. Extreme Security includes OSFirewall, a proprietary technology that keeps out even the most innovative hacks around traditional firewalls. Attacks like COM, SCM as well as other raw data access exploits are identified and blocked off. The two-way firewall not only blocks incursions from the outside but also restricts malware to make outbound attacks on public networks. The Built-in Kill Controls of the software exterminate any programs that try to leak information out of the network.
Extreme Security's already bolstered up antivirus is further strengthened by its Automatic Wireless Network Security tool. The tool analytically scans wireless networks to identify and apply the most suitable firewall policy for a given network.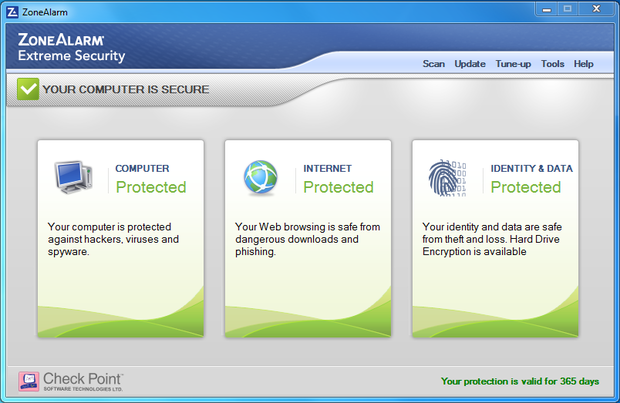 Additional Features
The software is renowned for its wide selection of additional security features that only a few other high-end security applications offer. Zone Alarm adds a notable layer of security to the Chrome web browser through anti-phishing chrome extension. The extension uses the software's Enhanced Browser Protection to scan URLs and prevent users from accessing websites with security threats. Instead of using heavy-handed desktop anti-phishing applications, this feature offers a light and convenient alternative for users.
Keylogger programs are designed to record the key strokes of users to find out sensitive passwords and usernames. Extreme Security supports a feature that detects and prevents key-logging programs from operating on the user's machine. This feature can be effective against several hacking hazards that present risks to the security of your system.
Zone Alarm features a generous 5GB online backup hosted by the company's partner IDrive. Moreover, the software supports another helpful feature powered by Identity Guard. The service conveniently monitors identity and credit theft without charge for a whole year. Whereas, Identity Lock utility securely controls any user-specified personal information.
As mentioned before, Zone Alarms list of additional features is never-ending. The software also bears premium features like 'Find My Laptop' that helps the user track any stolen laptop or machine. Whereas, DefenseNet is yet another executive feature of the software. This software feature ensures real time monitoring of security threats and utilizes an updated database of security definitions.
Number of Licenses and Packages
Zone Alarm antivirus features three distinct packages and the price varies according to number of machines attributed to the package.
Free Version - The free version is well rounded and more advanced than any other free counterparts in the industry. It has both an antivirus and a capable firewall.
PRO ANTIVIRUS & FIREWALL - The Pro Antivirus and Firewall features advanced antivirus protection and ensures powerful safeguards against firewall threats.
EXTREME SECURITY - This is the fully upgraded form of the antivirus and enlists all the premium features of the antivirus. Features like zero-day attack protection, advanced anti-phishing, online backup and ID protection make it a product worth the money.

Ease of Use
Good usability is a significant component of a top-tier antivirus. It offers a simple and relaxing user interface. The interface Pro Antivirus and firewall is divided into three main components:
• Antivirus and firewall
• Web and Privacy
• Mobile Data and Security
The main dashboard also provides a quick overview of the account, scan states and virus definitions.
Customer Support
The company maintains a comprehensive support center to ensure their customers are satisfied from their product. The support system is backed up with an online live chat support which answers all the queries customers send it, 24 hours a day, 7 days a week.
If the live chat is not your style, the application also supports a ticketing system and also an active user community. It doesn't end here; the company also offers a list of online tutorials and toll-free number to answer any queries related to billing.
The Bottom Line
ZoneAlarm combines a formidable firewall with an effective antivirus backed by the award-winning Kaspersky. Its wide array of features and a solid free version make it an ideal choice for users who don't need a full security suite and who require a top of the line firewall.